Mother's Day is a bittersweet social religion that I've never really fully grasped. In my opinion, it's a path full of potholes because motherhood is never all sunshine and light. Yes, it's lovely to be recognised for being an awesome caregiver and an integral part of the family unit but it's bathed in established criteria for what a mother is and does and should be.
There are so many ways to be a 'mother' and while I do enjoy the social niceties of being a traditional Mum, I can't help but feel for those that want to be mother but can't (which was very nearly me), those that no longer have their mother at their side (which is me) and for those that fall into a different category altogether like two-Dad families where a day like today can be cause for a quiet retrospective instead of the burst of cheap carnations our world throws up.
So while I'm thinking about all of these things I'm also reflecting on the imbalance that my adult life has become. An imbalance that I've let happen, to be fair, because I like my home the way I like my home. It has a sense of order and neatness amongst the chaos of life with a 4-year-old (and a 43-year-old man child!). 
I didn't grow up in a traditional home. Both of my parents worked. Both of my parents cooked. Both of my parents cleaned and did laundry…oh wait…no I don't think that's true. I may have re-imagined that bit in my adult re-imagining of a balanced home life. I suppose that's why the scales of domestic labour have become more heavily weighted towards me as I've created my own family life and home. I saw it happen and then I let it happen.
The somewhat hypocritical thing for me is that I'm not ardently opposed to domesticity and old-school gender-specific roles. If home was a business then it's true that I've created a rod for my own back by appointing myself the CEO. So I guess what I simply want is for my 2IC to lift his game.
Now, I'm a big fan of my bloke. He's a good guy. That's why I married him. But he is a bloke. Which means he's fraught with flaws and poor domestic instinct (and no, I'm not calling myself perfect, but this post isn't about my flaws is it?).
So, when Mother's Day rolls around each year along with my breakfast in bed, flowers and home made delights I like to attempt a recalibration of the domestic scales in our home. I'm done making lists but here are the top three things I seem to always revisit with my bloke.
ONE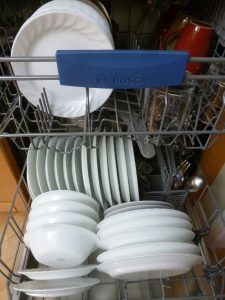 When you get in the door after work by all means greet and shower your child and wife with love…but before you sit down and settle into 'my day has finished mode so I'll just flick on the TV and check Facebook' ask yourself 'Does the dishwasher need emptying? Or stacking?' I know stacking it is a skill only attributed to the female gene pool but I challenge you to give it a crack.
TWO
Does the dirty laundry basket have any dirty garments in it? Any at all? Because if it does may I introduce you to the washing machine. And lo', its trusty companion, the dryer which, miracle of miracles means we can wash and dry a whole load of dirty laundry in one evening! It will even work its magic while Netlfix is shining it's alluring light in the lounge room.
Speaking of which, may I introduce you to the 'pause' button which allows you to get small amounts of shit done while still bingeing on TV. At least that's how many of us women-folk binge TV and tidy at the same time. I know we're marvellous aren't we?
THREE
Preparing an evening meal doesn't have to be an all-day task that can only be saved for the occasional Sunday when you fancy the adventure into the pantry. A simple schnitzel and salad would be welcome on any night (I'll even do the dishes).
So, in a nutshell while I encourage you to relax and put your feet up my love I also encourage you to master the art of knowing that the day isn't over until the last dish is washed and your clean scruds are put away (however you choose to throw them into your undie drawer – the state of that receptacle is of no concern to me).
I'd like not to be the master of the home domain and the manager of all things domestic but I do acknowledge that I've set myself up for the job. That's my failing. I agree. I just ask that you don't wait to be asked to manage alongside me…just jump right in and do.
On any given day I've probably spent the day organising and planning and working and parenting and kindy-ing and cleaning and sorting and every other bloody thing. Project management of our small and happy life is a full time job and it's exhausting. Red wine helps, but unfortunately it doesn't empty the dishwasher.
PS. I love you.
PPS. Thanks the flowers, they're lovely.
---
WANT MORE ON THE MENTAL LOAD?

French Comic artist Emma illustrates this mental load so well with her viral blog post last year. I love this. "You should've asked' 
And a little closer to home the ever real and ever fabulous Yumi Stynes talked about this topic in her ABC podcast, Ladies We Need to Talk. Time to Name (and shame) the Mental Load.