It was 8am on a crisp and clear Melbourne morning. I was standing next to a "security" escort (quotation marks intentional) in the car park of the Docklands Studios; a vast plot of land in the shadow of the Bolte bridge that's home to five soundstages, movie making and broken dreams.
I was holding two changes of clothes, wearing a warm "please-like-me" smile and snapping Insta-worthy photos of the sky as I waited for others to join the escort to take us over to Stage 5 where Channel 9 film Millionaire Hotseat.
This was the day I was going to correctly answer 30 trivia questions in a row and become a millionaire. How hard could it be? I'm quite the armchair expert at wine-o'clock when I'm not only yelling the correct answers at the television but am also cheerleading my 4-year-old to eat her dinner while simultaneously making an adult version of the same meal, emptying the dishwasher, folding laundry, cleaning up the latest cat mess, adding 'parmesan cheese' to the shopping list and constantly refreshing the email on my phone waiting for a client to approve a job we need to start tomorrow. I had nothing else to focus on today except those 30 questions. Walk in the park. Walk. In. The. Park.
Having been duly escorted to the green room, our holding bay for the day, we were assigned our episode. I none-to-subtly shared my disdain with the producer holding the list when she showed me I was appearing on show six. They film six episodes in a day and only break for lunch. The first episode gets underway at about 10am and the last at about 4pm. I was awake at 5.30am so I could make myself nice for TV and be at the studios by 8am only to have to wait until 4 o'clock for any action. Not to mention that's right on wine o'clock and I was pretty sure that there was no rider included in this little adventure.
I took my seat at table number six with all the other number six contestants and we made polite small talk when in reality we were eyeing each other off like a starving hyena zones in on its next meal. There were 36 people in that room and a few spares. A bit later we'd be joined by our chosen supporters who would also be locked in …I mean staying… for the long haul.
And then the day began.
Like a well-oiled machine the team of producers swung into action. A professional blend of entertainer and tour guide, each one of them the perfect host. We got a run down and a rev up from Producer Michael about how the day works and how many people in the room are likely to win money today (between one and three; quite the fortune teller was Michael, as it turned out!) and then he introduced us to Eddie. Fake Eddie. That's what they call him. The warm up guy who plays Eddie McGuire for about two hours while we get taken through the logistics of the game and have a little practice. Ostensibly so we're not like Bambi in a spotlight come camera time.
Fake Eddie is one of those TV guys who you just know has been around for eons. Probably knows everyone, has done his time on the corporate comedy circuit, is good with people and gets booked for lots of gigs. He was good at his job. Had the whole room in stitches as he got close to offensive but only enough to make grandma blush. It's a family show after all.
Which brings me to my next revelation. Millionaire Hotseat is not about the game. It's about the stories. Which is why Eddie seems to spend an inordinate amount of time on people's "interesting" stories (quotation marks intentional). We're asked to prepare five stories from our life that can be repeated. I had to choose carefully as I'm pretty sure the tale of that time I sat on the knee of an aging 80s rockstar was not family TV show appropriate.
Fake Eddie takes all 36 of us through to the studio and voila, like Dorothy in Oz, we get our first glimpse of the set and you know what? It's exactly like it looks on TV. I was surprised. All the lights and signage and music and everything you see and hear on screen is filmed.
Groups one to four go through the motions of the actual game show, swapping seats, answering questions, looking at the camera but by the time groups five and six swing around we were running into overtime so we were walked through fairly briskly. Hmmm… like Carrie Bradshaw I couldn't help but wonder if this would be precisely how it would feel come game time at 4 o'clock for episode 6-ers?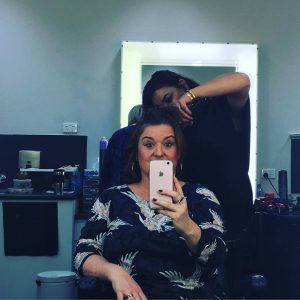 Speaking of Carrie Bradshaw… hair and makeup was underway for the first two groups by now. We'd been briefed to arrive camera-ready which I took to mean don't expect more than a swipe of lippy and some hairspray. But joy of joys we were all treated to the full kit and caboodle by the make-up girls. We were taken into makeup about 90 minutes before our episode was filmed which was a good thing for me, because by the time 2.30pm rolled around the 'smoky eye' I'd applied at 6am was sliding down my crows feet. My makeup lady Natalie was amaze balls. Loved her on sight. We had a good cackle and I knew instantly what I'd spend any winnings on; her employment on my personal staff.
After our practice run in the studio we went back into the green room where we met up with our supporters, who'd been instructed to arrive about 90 minutes after we did. I gave my friend Helen a massive hug because I knew it was going to be a long long day for her and all she had was the tea and coffee station to keep her going.
The producers also ask the contestants not being filmed to make up audience numbers in the studio. Helen and I sat in on the first record and that was enough for me. I smiled and clapped my way on cue through an hour of vibrant television making under studio lights and knew if I sat there for many more I'd be a drained mess by the time my own show came up. So we retreated to the green room and politely declined any more requests to be audience.
Watching a show get recorded was fun though.
We are constantly entertained. First there was Michael the Producer, then there was Fake Eddie (who's name is probably Michael too), and in the studio during the recording there's Michael the Pope, because that's his name. Michael Pope. There is no one in Australia TV land who doesn't know Michael Pope. He's been a warm up guy forever and, much like Fake Eddie, is excellent at his job. He's the high-energy dude you want to fire up a crowd. He's cheeky and rude with the right amount of 'every-man' to make him relatable. I'm sure these guys have the same gags that get rolled out each record day but somehow they always seem pretty fresh to me. They are seemingly tireless and the consummate professional performers.
While I waited to be called I drank tea (because there was no wine), chatted to Helen, pretended to make friends with the other contestants in my game and wandered outside for fresh air from time to time. At one point I wandered straight into a sleek looking Lexus parked in the doorway. You know those ones that look like they could probably fly as well as drive? I guess not everyone needs a security escort to walk to the studio!
I won't lie. It is a tiring day. But just when I think I can't take anymore someone wins some money and everyone erupts into a genuine cheer. It surprised me how happy I felt for the winners in the games that were recorded before mine. A young guy won $50,000 towards his first home, a geeky Star Trek fan won $20,000 to spend on getting to ComicCon in America (I assume, what else do they spend their money on?) and then Angela who had quite the hard luck story and also checked herself out of hospital just the day before having had a hernia operation and still had tubes in (!) won $100,000. It was tear inducing stuff and my favourite part of the day; congratulating the winners when they returned to the green room – richer than when they left.
It's true what they say – it's not whether you win or lose it's how you play the game. And here's how I played my game.
When it comes time to film your show you're called to sit together with your group and watch the game being filmed ahead of yours. The producers sit with you; the makeup girls visit again and wardrobe give you the once over (my $15 shirt from H&M thankfully passed the test!).
It had been a long day already and truthfully as curious as I was to play this game, I was knackered and just wanted a red wine and a cuddle (which the producers probably would have provided if I'd asked…the cuddle, not the wine!). For the next 45 minutes we sat and chatted and answered all the questions being fed to the current contestants. I learnt that one of my fellow contestants, unlike the rest of us early birders, got to turn up at a well-rested 3pm because he'd been called the night before after a contestant cancelled. He won fastest finger first because naturally, he was still feeling fast.
And so we come to my 15-minutes of fame. That hour of recorded television that I'd waited a few short months to parlay myself from credit debt rags to debt free riches.
SPOILER ALERT AHEAD 
First is fastest finger first; a well thought-out start to the game that requires the punter to stab at an iPad with all the coordination of a newborn discovering its thumbs. It's exciting but you can never be sure if what you see is what you get. I spent my time trying to decipher the questions, which may as well have been in Hebrew for all the recognition I was able to give them. A few times the stabby pen thing didn't connect with the tablet which I'd love to say was the reason I missed so many of them…but I alas no. In short; it was a train wreck.
Nevermind, I'd already decided I was saving my brains for the Hotseat so the fastest finger bizzo fail was water of a ducks back. Turns out, it was a good thing I'd watered that back…I was about to take a big slide.
Let me ask you this dear reader. Do YOU know where on the cow the sirloin cut comes from? Case closed your honour. And I guess I'll still be paying for my sirloin steak by credit card. Because I'm super helpful here's a little Google I prepared earlier…
It's been a few months since this day and aside from my husband making endless jokes about cuts of meat, when people hear that I went on the show these are the three questions they ask me:
Q: How did you go?  A: OK, but I don't like steak anymore.
Q: What was it like? A: Long. But you have a fabulous makeup lady to cover the bags under your eyes.
Q: What's Eddie like? A: Quite a nice chap who's good at his job and drives a very shiny Lexus that looks like a space ship. He was charming and seemingly interested in what he was doing. Making a point of shaking our hands even after the cameras were off (…unlike that horrid little man with a moustache who used to host that Wheel of Fortune game…but that's another story).
TV land is a weird place for an interloper. I describe it as that time before sunrise on empty city streets. It's no longer nighttime and it's not quite daytime and there's an underlying hum in the air. A pulse. A heartbeat. If you're not used to seeing that time of day then everything feels a bit skewed. That's TV land; a bit skewed. And exhausting.
---
And if you want to see me agonise over that bloody steak, tune in to Hotseat on Thursday June 28. Such fun*
*if you're the type who can't help but watch a train wreck, that is.